#SuzyPFW Poetry In Motion: Rahul Mishra And Olivier Theyskens
文章導讀
Designers telling stories through clothes without resorting to costume
敬請期待中文版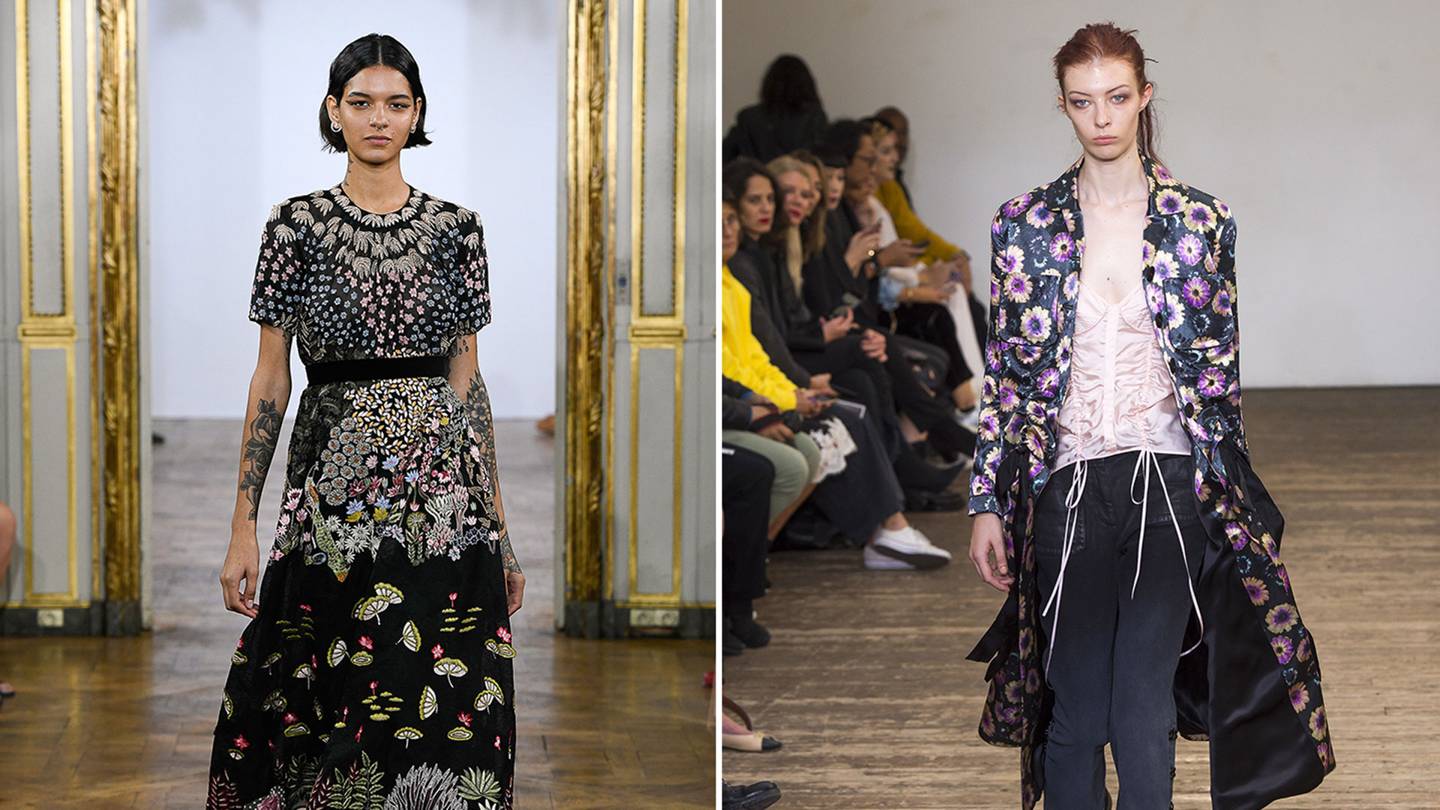 The Spring/Summer 2019 collections by Rahul Mishra (left) and Olivier Theyskens had a strong narrative line
Ik Aidama / Kim Weston Arnold / InDigital.TV
Rahul Mishra: White as colour
India in the 1980s: Black and white TV; bedcovers made into gossamer white curtains, filtering the burning sun; the makers of this handwork wearing crisp blue and white.
Rahul Mishra Spring/Summer 2019
Ik Aidama / InDigital.TV
Rahul Mishra can tell you every object or experience that inspired his Spring/Summer 2019 collection – from taking his three-year-old daughter to the countryside, where she sketched hydrangeas, to thinking back to his own childhood when his mother would open a trunk full of curtains, saris, and Daraz-work from Lucknow in northern India. That skill of ultra-delicate embroidery is now in the hands of the last few remaining artisans.
The Indian designer speaks like a poet, and this collection appeared on the runway seeming so fresh and simple that it stood out against its presentation in the richly gilded Mona Bismarck Cultural Centre in Paris.
The show opened with all-white shirts, a long pleated skirt, and a jacket – each revealing a traditional Indian skill – but looking like a breezy summer wardrobe.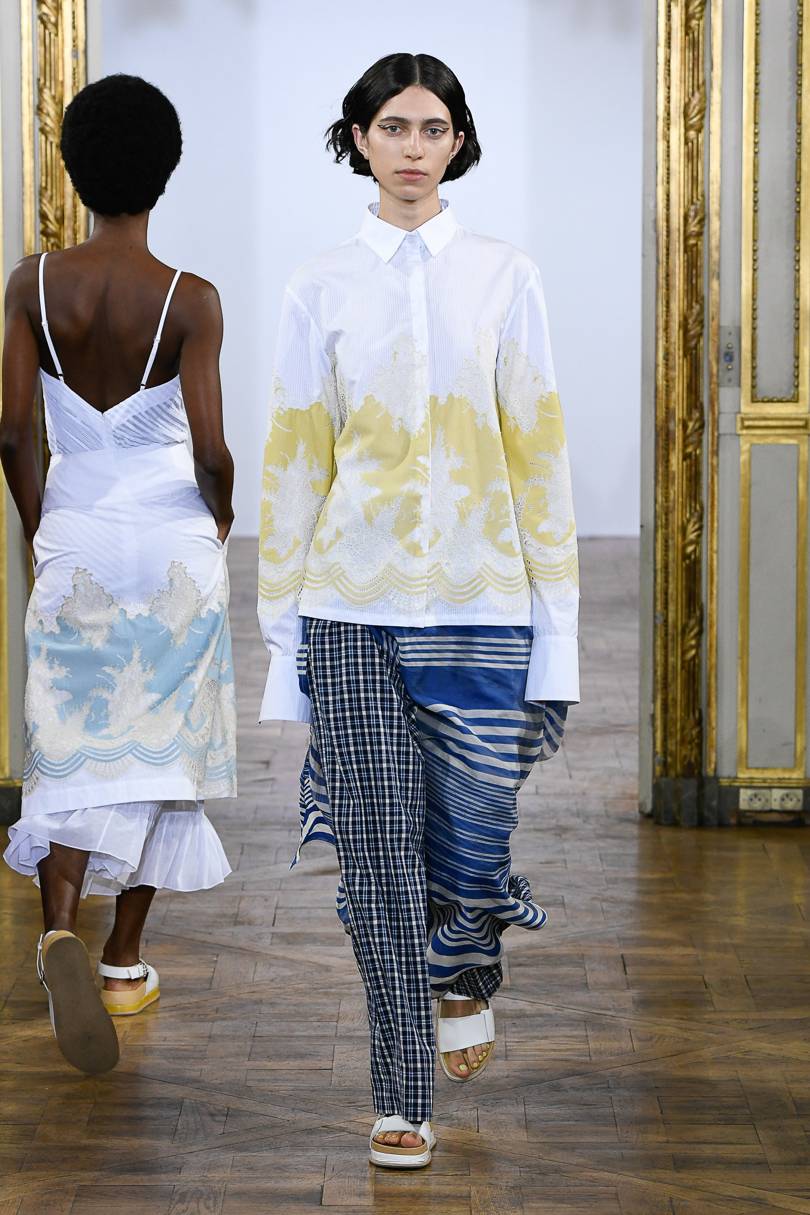 Rahul Mishra Spring/Summer 2019
Ik Aidama / InDigital.TV
That was true also for a slim, white ankle-length dress, or a long pleated skirt with a firmly shaped lace blazer. For the feet, there were slipper sandals.
"My job is to make simplified things, so my clients can layer them, wear them like a dress or maybe wear them individually. It's all about making interesting shapes and separates," Rahul said backstage, showing me the delicacy of the Lucknow lace or a chiffon dress, cut on the bias with clusters of embroidered wild flowers.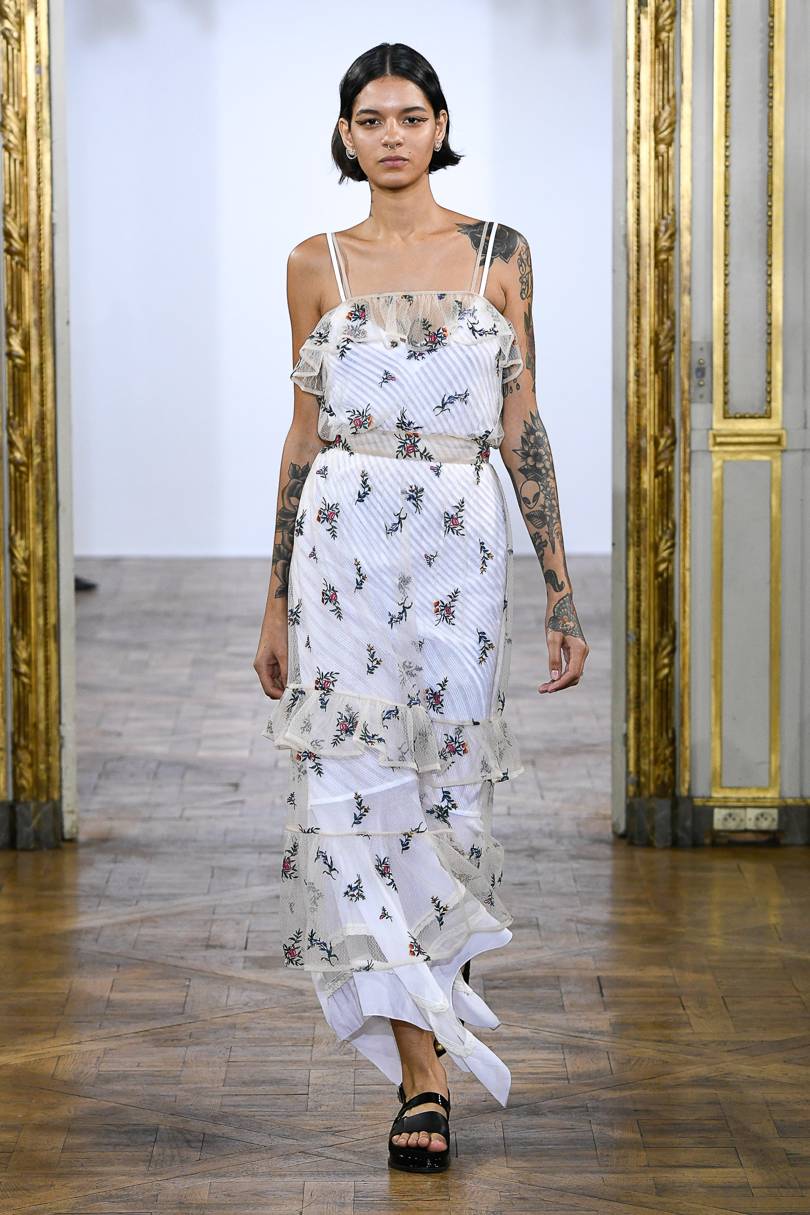 Rahul Mishra Spring/Summer 2019
Ik Aidama / InDigital.TV
There is also a lot of tailoring, inspired by the Indian tradition of pattern making. Here, the shaping (normally only applied to male clothing in India) is done using tailoring techniques.
These masculine influences included a white blazer with handwork stitching, a mannish shirt – the sleeves embroidered with white lines – or a tailored jacket shading into an almost transparent skirt dotted with wild flowers. The bright navy effects on white also had a crisp look and the entire collection turned a straight back on the Indian sari's basic concept of drape and shape.
In his nostalgia for the India of his childhood, the designer might seem to be drowning in a romantic view of his country's past. Yet his work with traditional craftsmanship produced fine examples of modern fashion – the apparently simple beginning easier to digest than the more elaborate evening looks.
But Rahul Mishra is a rare Indian designer to bring his creativity literally and figuratively away from his homeland.
And he could not do it with more grace and poetry, writing in the show notes, "When memory's floodgates are open-ended, you are confronted with the decision of details, preserved somewhere in your being – like the dew drops on lotus leaves."
Olivier Theyskens: Haunted by images
"She Walks in Beauty" was the title of an exhibition of Olivier Theyskens, held this time last year at MoMu in Antwerp. The Belgian designer's darkly romantic vision had entranced Madonna back in 1998 and his work for the French house of Rochas marked him as an interpreter of Gothic romance.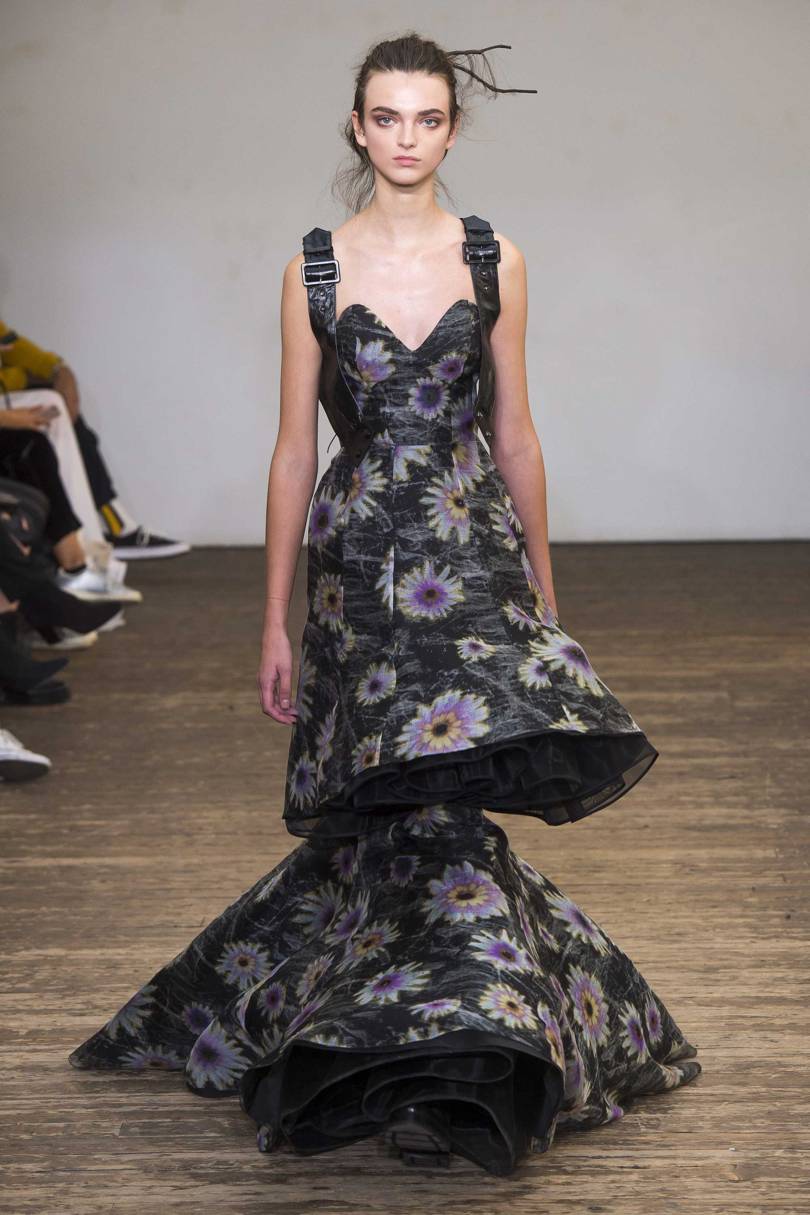 Olivier Theyskens Spring/Summer 2019
Kim Weston Arnold / InDigital.TV
But for Spring/Summer 2019, Theyskens stepped more deeply from the exquisite to the discomforting: A long-sleeved coat-dress in dirty purple graduating towards the green of ageing oxidised copper; what looked like leather harnesses on the back.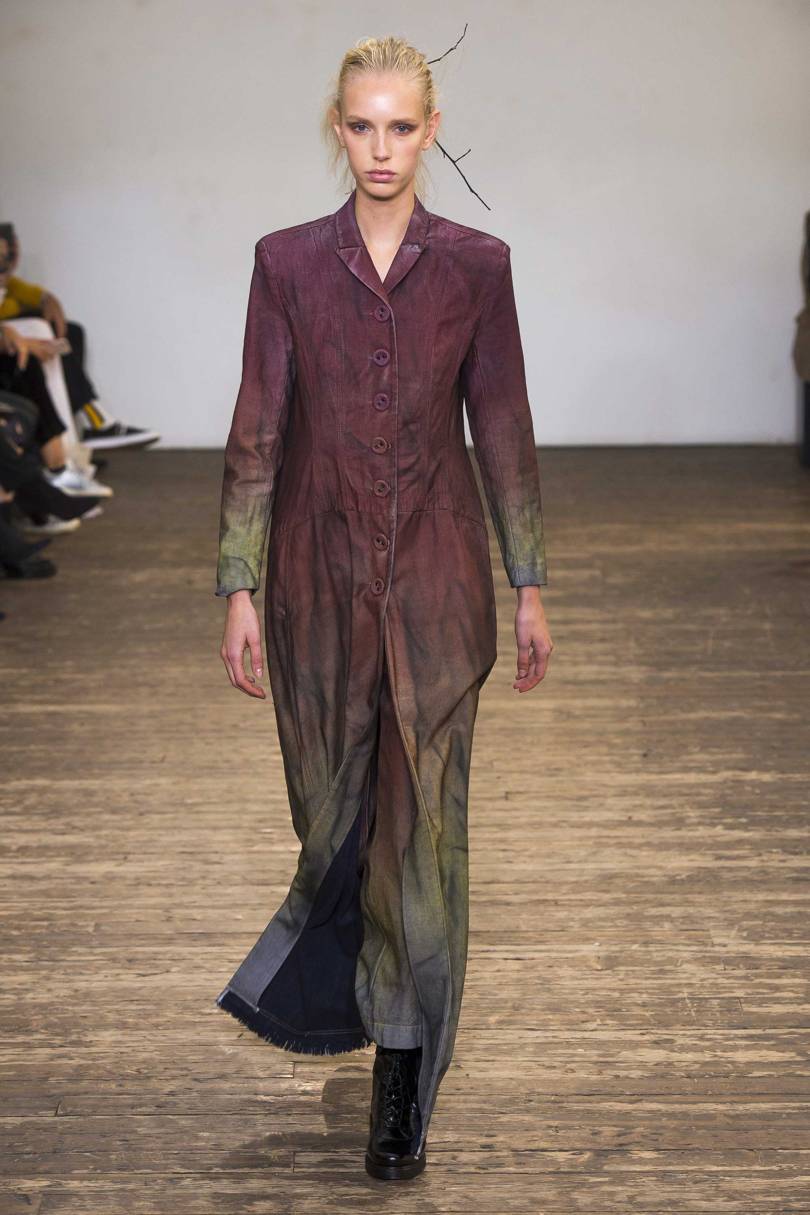 Olivier Theyskens Spring/Summer 2019
Kim Weston Arnold / InDigital.TV
Above all – and at this time, when male attitudes to women are a particularly sensitive subject – the designer printed dresses with a focus on female nudity. Naked figures, and their writhing printed over actual female bodies, suggested a discomforting vision of women, inspired by Hans Bellmer, the German artist with a fetish vision best known for the fetishised pubescent female dolls that he produced in the 1930s.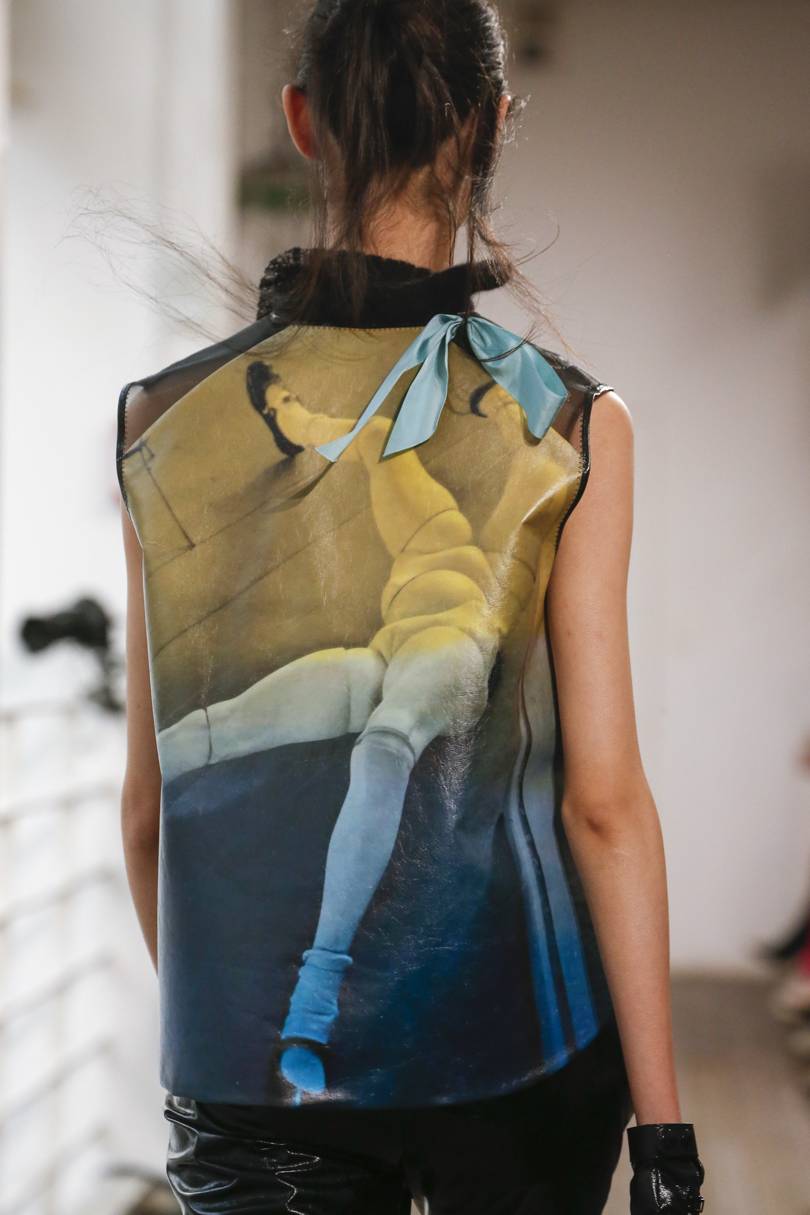 The 1930s "child doll" series by German artist-photographer Hans Bellmer was one of the inspirations for Olivier Theyskens Spring/Summer 2019
Marcus Tondo / InDigital.TV
"I never integrate art or elements of art in my work, but I had this thing with Bellmer, the artist-photographer," said Theyskens. "Some of his photographs were really haunting me and I wanted to integrate parts of them to create this girl out of it. And I wanted to explore some technical things with the ribbons."
And those "harness waistcoats"? The designer said he wanted to "have something on the top of the jacket that was a little bit feminine but a bit like a hiker".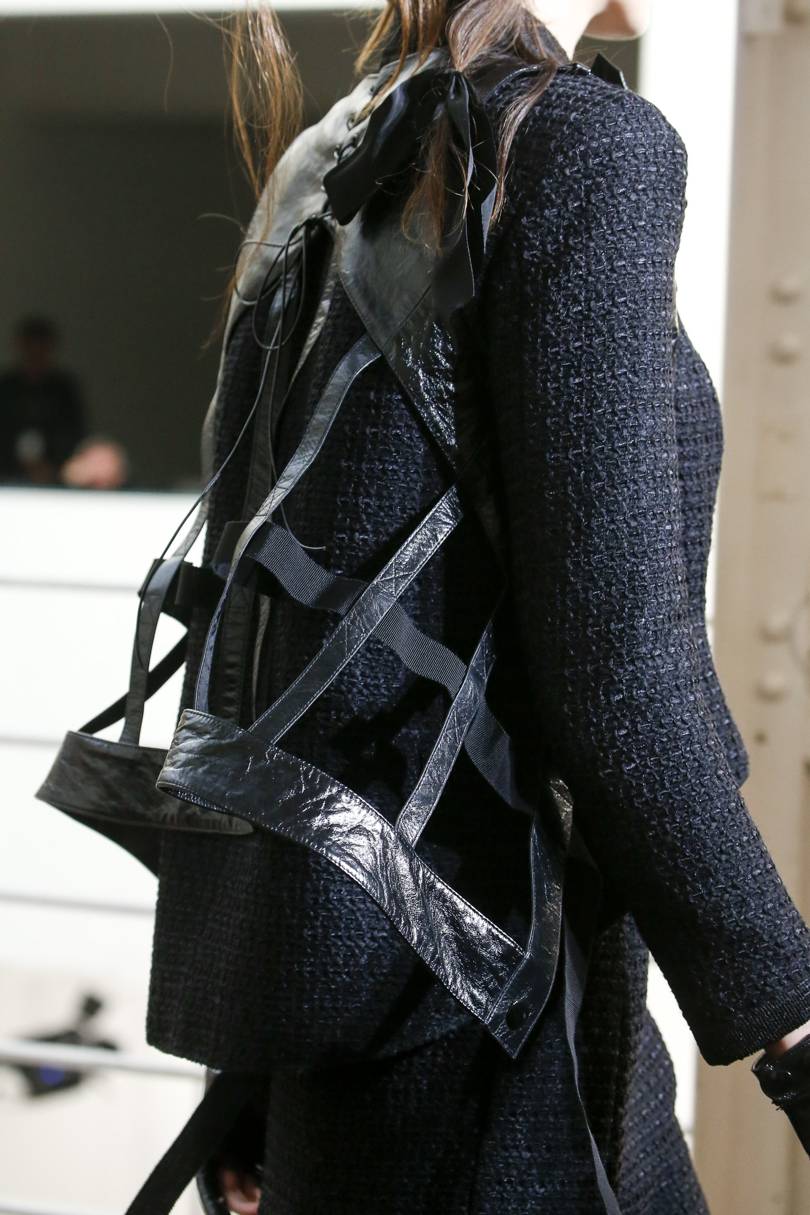 Olivier Theyskens Spring/Summer 2019
Marcus Tondo / InDigital.TV
The collection still had the kind of dark beauty that is Theyskens' signature. But I left the show feeling that there was a story within a story that was difficult to grasp.
轉載聲明
本內容系VOGUE時尚網原創或經官方授權編譯轉載,嚴禁以任何形式或方法轉載或使用,違者追究法律責任。
將本文分享到
你可能還會喜歡
更多相關網站內容